How Thank You Pages Can Boost Your Passive Income
Did you know there are invisible pages on your website that can really serve you well to boost your income? They are your thank you pages. What is that? It's the page that people land on after they:
Subscribed to your list
Joined your webinar
Bought your product
Why are they ignored? I think it's because we are in a bit of a hurry when we are putting up a lead magnet. So we throw up a default thank you and it's promptly forgotten. To add to that, unlike our home page or landing pages that live in the forefront, we don't see our thank you pages regularly. Out of sight, out of mind.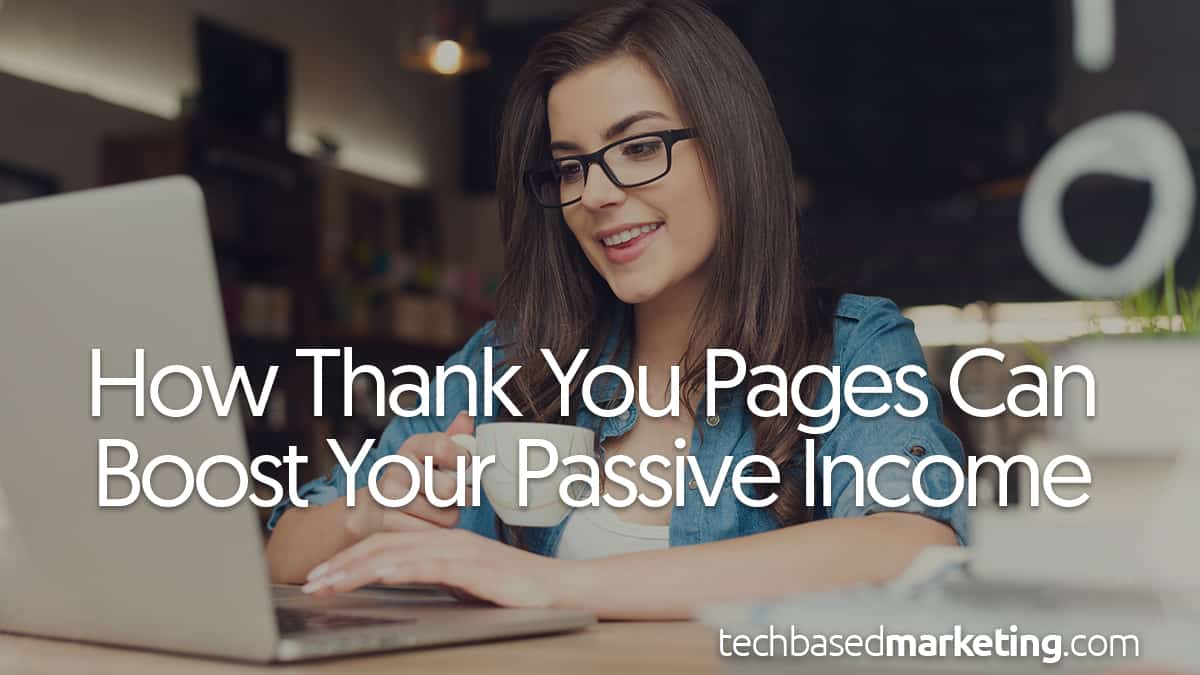 So, how exactly can these hidden pages boost our passive income?
#1 Offer Your Products or Affiliate Products
Freebies or webinars are designed to promote something. Many of us are good at putting the offer right into the free item itself. But we forget there is a gap between the signup and the consumption. Too many digital reports, audios, and checklists lay waste in subscribers' hard drive. Only a percentage of webinar registrants show up and less listen to the replay.
What a 100% of all of them see is… your thank you page. So whatever you want them to do, ask for it now because they may never consume whatever you are giving them.
#2 Offer Related Products
Take note when you order something from an online retailer. The smarter ones will show you else other people frequently buy with the product ordered. On Amazon, this also happens when you add an item to your cart. This is a form of thank you page!
What about your product thank you pages? Are you promoting a product that is related to the one they purchased? Maybe something that will make what they purchased better, easier to use or compliment it. Keep in mind, it doesn't have to be your product. You can and should suggest an affiliate product that you like if it fits the purchase.
#3 Engage Them
This is a more indirect manner since engagement does not always translate to income. But it does make people more comfortable around you and exposes them to more opportunities to like you. If you are truly in a hurry and can't figure out what to promote on the thank you page, at least invite them to connect with you on social media or even email your question. The better option though is to invite them to your Facebook Group. Facebook groups are quite hot and can be much more effective than a Page.
The income side will come when you have a plan to actively put products in front of the group or foster discussions around products. This is my "default". Not the best of all options but better than nothing.
Now that you know how thank you pages can boost your earnings. Here's a quick example for you. I have a good informative post here with a content upgrade attached. Like everyone else, I was too focused on getting it out and so my thank you page was pretty bad. The design is also all sorts of wrong because I just switched themes.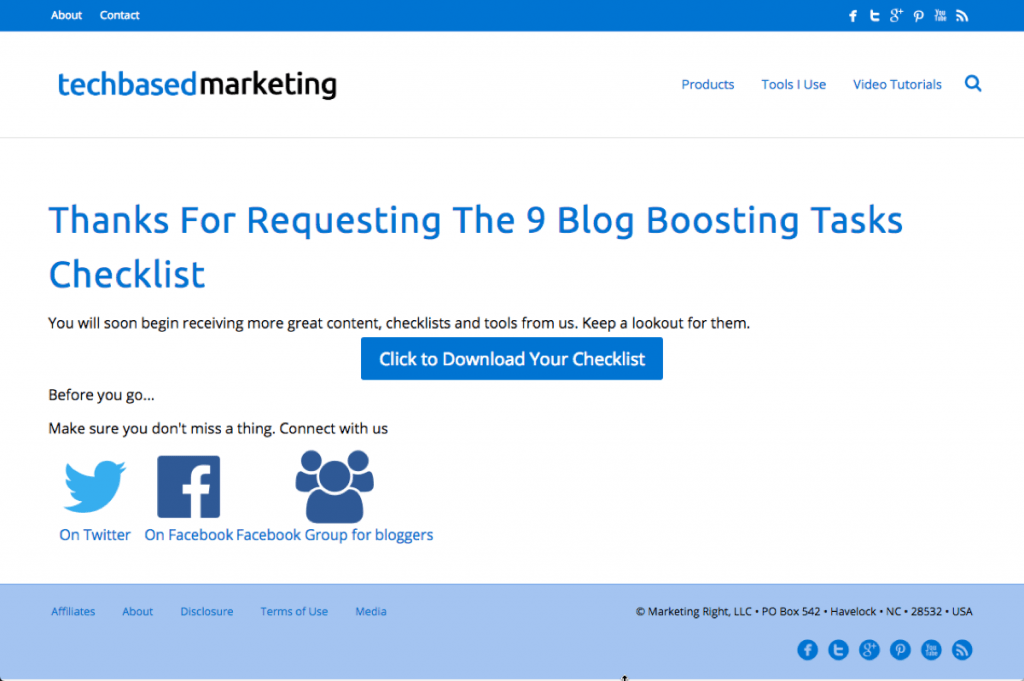 As you can see above, it was bare bones. I did request people engage with me and that is fine, but that it's time to upgrade the page and step it up. This is the result, I built it with Beaver Builder. Then I saved it as a template so the process is easily repeatable the next time I need a profitable thank you page pronto. Another reason why I love Beaver!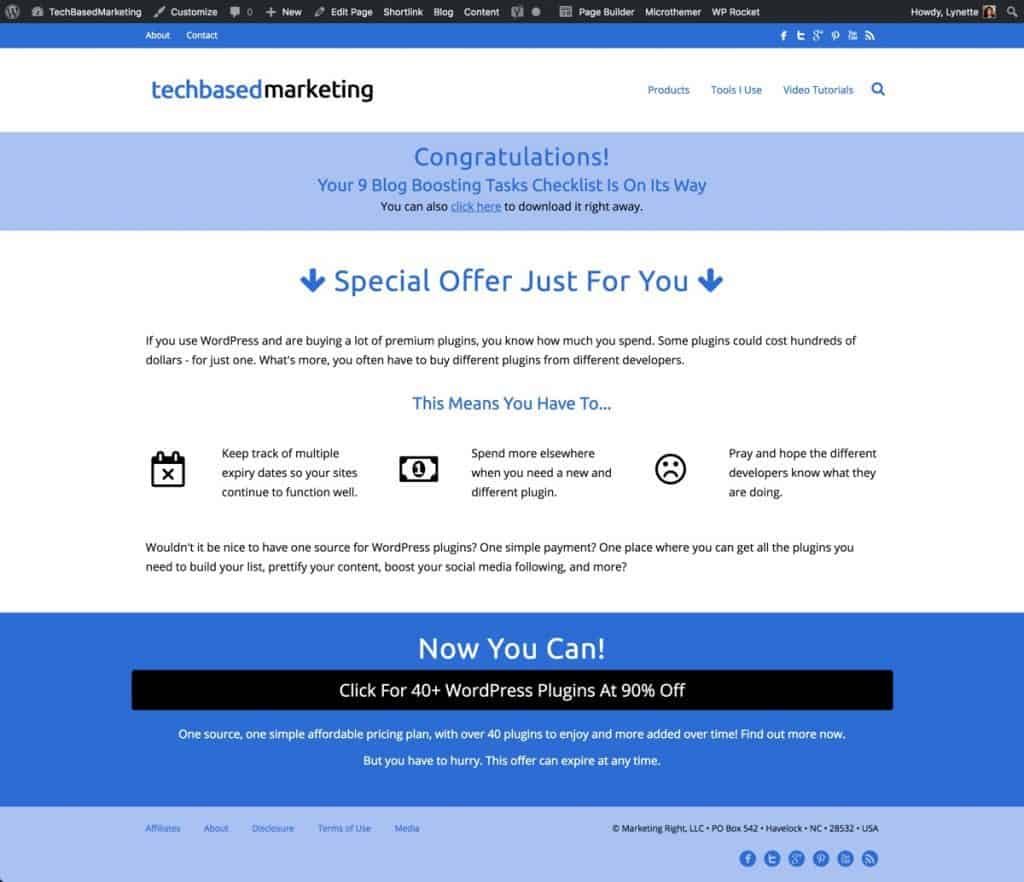 It's still nothing fancy. I think it can be improved. Everything can always be improved. One thing for sure, it is better than what was there before. Now, I am ready to put some money and effort into promoting this because there is an opportunity to recoup the cost and maybe even turn a profit on the thank you page.
Your turn. How have you optimized your thank you page? Care to share and show us the result?
Do You Want A Hands-Free Business?
Then get this guide to help you systemize your business so you'll have more time working on your business.
Hey! I want to make sure you know what you're getting here. In addition to the guide, you will also receive our memo that includes special offers, announcements and of course actionable information.