9 Places For Statistics To Bolster Your Content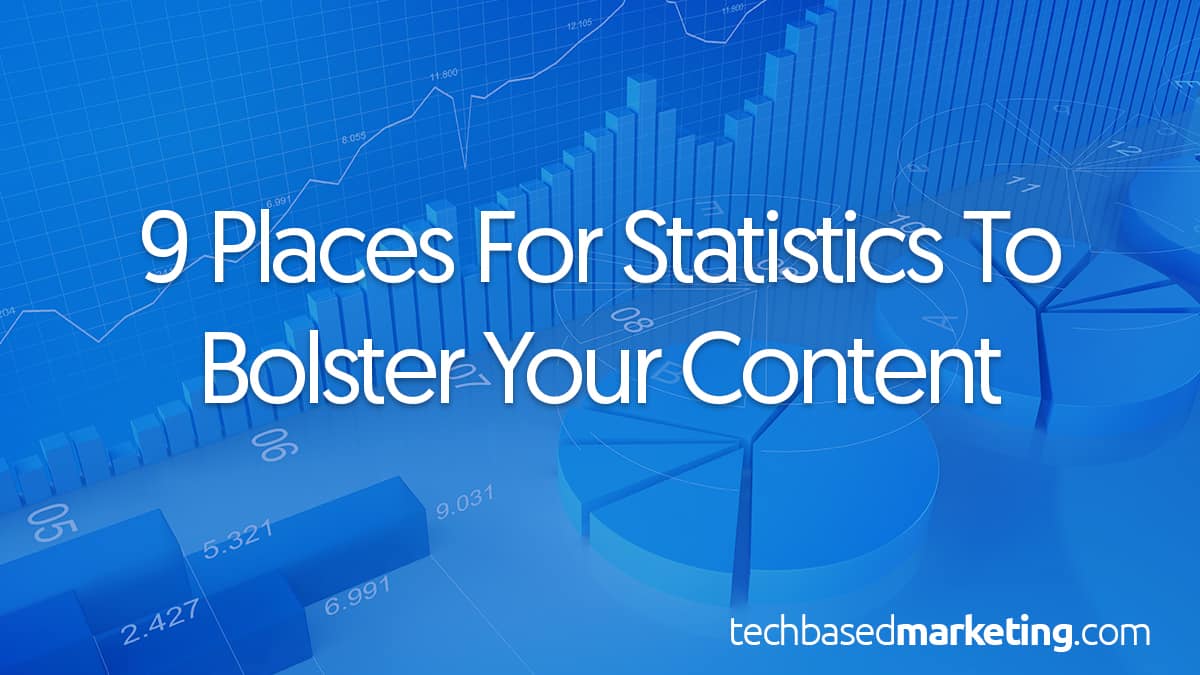 In a previous post, I talked a bit about adding research data and statistics to your content. This helps improve credibility, strengthen your message, and create unique content – in the case when using ready made content.
The problem is, sometimes data is a bit elusive. At the same time there's also plenty out there. To save you some time, this is a list of resources you can begin your data search with.
Love this site. Covers many different topics.
Mostly European data, covering a wide variety of topics and industries. They also have reports for a number of different countries and regions. Interesting stuff.
This is more of a tool than a data source. It pulls data from a variety of sources and lets you manipulate them to get or view the datasets you want.
An established data research organization with lots of data on a variety of topics. Some fascinating data there.
The U.S. government's open data tool where you can look up data on a variety of topics like consumer, finance, health, business and more.
Covering mostly UK and Europe with some North American data thrown in. Presented in well written and interesting formats. Some are even interactive.
Focusing on national health issues, as well as the U.S. role in global health policy. Many interesting health related data here.
Super interesting cost of living data for any country and you can drill down by city. Some countries and cities have more data than others. That's to be expected. Great tool you can spend hours and get lost in so beware.
Offers a wide variety of topics. They report on statistics and data published by others, visualize them and also has a section to find data sources.
Updates!
Whenever I find a new resource, I'll add to this list. Which means this is a living, growing list. If you want to keep up with it, stay tuned to our emails, Tweets, and Facebook posts.
As it's name suggests, it's focused on marketing only, but it covers B2B, B2C. A variety of topics from email marketing, videos and even includes some non-US data.
And there is it. Not the most comprehensive and I understand it is heavily skewed to U.S. statistics. This could be due to my location and the searches I've done naturally surface local data.
Do You Want A Hands-Free Business?
Then get this guide to help you systemize your business so you'll have more time working on your business.
Hey! I want to make sure you know what you're getting here. In addition to the guide, you will also receive our memo that includes special offers, announcements and of course actionable information.