How I Sold Myself For $25,000 And It Feels GREAT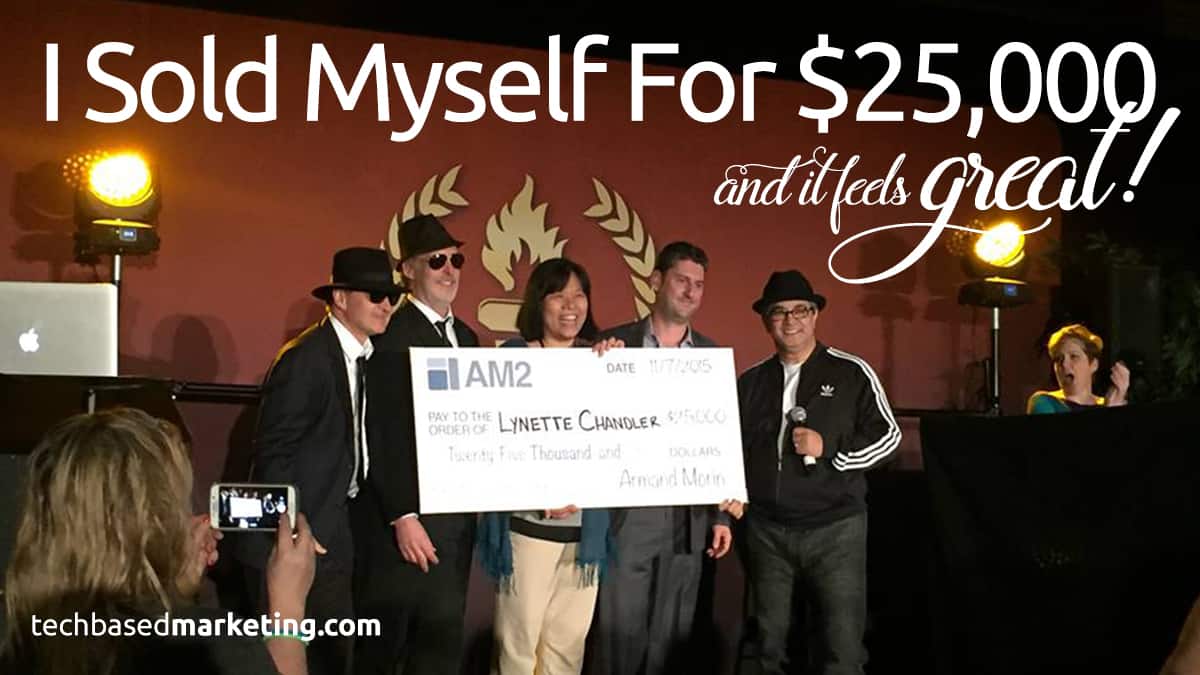 It's not what you think. At least, I hope not. This. Is about how I worked for 9 months. Then got up on stage to convince other smart business people to write me a $25,000 check.
To tell this story, let me start at a weekend trip all the way back in November 2014. I packed my family into our truck, and headed for Armand Morin's event in Atlanta.
I'm a proud recluse. Never want to go anywhere. My husband convinced me. Again. Let me tell you, this man knows how to get me into all sorts of trouble.
At that event, I saw presentations by finalists of the Better Your Best contest. A quick intro. This is a contest hosted by Armand for students in his AM2 mastermind group. AM2 is one of the longest running Internet Marketing mastermind memberships online. Its members include some impressive names. If you'd like to know more, send me a message on Facebook.
Every year, every member has the opportunity to compete in this contest. You have to submit financials, with a diary of what you did, supply examples and of what you did, along with an essay. If you get chosen as a finalist, you go on to give a 5 minute presentation at a live event. The presentation should show people what you did. What your results are, and give a good enough message to convince the audience to vote for you. In short, show them why they should help write a check in your name.
I've heard contestants present before. Although always inspired, I never thought I could compete. What was different last year? Guess I was ready.
Get To Work!
From the first day of the following year, I was busy, busy, busy. While everyone was celebrating the New Year, I was chomping at the bit to get to work.
As a member of AM2, you get access to everything Armand created. One of my favorites is his Facebook Advertising course, which we implemented many times.
Other favorites are, recorded Webcamp sessions like his 30X Strategy. Powerful stuff, but depending on your market, this can be a bit challenging. Not because it's hard. It just requires you to dig deeper. That's a good thing.
The Problem With Business Courses
Having access to a lot of high quality courses is amazing. The problem? In this business, things change at a rapid pace. You and I, don't have the same support, systems, or resources as our coaches do.
When we try to apply what we learn, we often get stuck. What seems so easy for them can be challenging for us. This happens no matter how experienced you are, because your coach is (or should) always be ahead of you.
The moment you roll up your sleeve to get to work, you will find questions that a course just cannot address. Not because the course is bad. Because a course cannot cover every scenario.
That's why, if you asked me what is most valuable to me when I buy a course, is access to the coach. In AM2, I can email Armand anytime. Or, I could get on monthly group calls to ask those questions.
Twice a year, I get to spend 3 days at Armand's house, going over my business. This is when he gives my business his full attention. This is how I like my coaching and wouldn't trade it for a thing.
Are You TRULY Willing To Be Coached?
Having access to your coach is wonderful, but it needs to be reciprocal. This one took me a long time to learn. It was a tough lesson too. Remember, I'm a recluse and in more ways than one. I'm fiercely private. Especially when it comes to behind the scenes mess.
To allow someone to look into that mess, tear it apart. Show me all the mistakes, tell me I suck. It's painful. If you don't know how that feels like, catch an episode or two of Restaurant Impossible.
Before, I scare you, Armand's style is gracious, but firm when he needs to be. Nowhere near Robert Irvine, which is exactly what I need.
Once again, at the coercion of my husband, I got over the fear of pulling back the curtains. Then, I started asking everything and anything. There was a point I was hesitant to ask what I thought were stupid, basic questions.
Questions that make my pride say things like "You've been in this game for a long time. You should know that by now." I got over that too.
Why You Must Be Willing To Ask
Let's pause here. It is true that I already know the answer to some of the questions I ask. Yet, I learned to ask anyway. Sometimes, you feel like you're too close to the subject matter to be objective. Being able to ask your coach for a yay or nay is helpful. At other times, you may feel you're missing something and you can't figure it out.
Most of all, we all have different experiences. No one walks down the same road and encounters exactly the same thing. Life and business is not scripted. You may think you know the answer. Sometimes, the response is something you never would have thought of in a million years on your own. Because you didn't experience it, but your coach did. Or others in your group did.
Guided by the answers I received, I did the work. Exactly as advised or taught. This is another key for me.
There are a lot of real, successful people out there teaching the same topics. They all have their own methods and they work or they wouldn't be where they are. But… most of us attempt to apply techniques from way too many people. This often leads to:
Overwhelm
Conflict
Confusion
The end result – our business and we ourselves become hopelessly stuck.
In the past, whenever I learn a technique from someone, I often thought one or all these things.
"I already knew that, teach me something I don't know."
"That's too simple! It cannot be this easy."
"So and so said not to do that, I'll skip that part." or, "I don't think that will work. I'll skip that." or, "It should work better this way, I'll do it my way."
Let's break that down and see why that attitude failed me.
"I already knew that, teach me something I don't know."
It's OK to ask this question… IF you've done it. Most of the time, we're so stuck learning from the shiny new course of the month, that we don't apply.
I've learned from a lot of people over the years and truth is, a lot of things don't change. It may sound like every coach you follow is saying the same thing. That's because they are. They are teaching the foundations of business.
When you hear you should do something something over and over, from different sources. You know that is what you must do. Do it. Only then, you "qualify" to ask this question.
"That's too simple! It cannot be this easy."
The ancient philosopher Lao Tzu once said,
"All difficult things have their origin in that which is easy, and great things in that which is small."
That big tree in your neighborhood, that's been there for ages? It started as a tiny sapling. Everything starts small. Daily growth, compounded over time adds up to big results. If want to dig deeper into this, check out the book "The Slight Edge"
by Jeff Olsen & John David Mann.
If you're not willing to do the small, humble things. How can you handle the big things?
"So and so said not to do that, I'll skip that part." or, "I don't think that will work. I'll skip that." or, "It should work better this way, I'll do it my way."
Have you ever baked a cake? Or tried a new recipe? Maybe you didn't have an ingredient and decided to substitute. Maybe you don't like one ingredient and decided to skip it. Or maybe, you thought the recipe had too many unnecessary steps so you jump ahead.
There's a good chance you'll end up with a disaster. I'm not saying never change things up for what might work better for you or your audience. What I have learned is, if you've never done something, stick with the recipe.
This way, you will have experience under your belt. You will also have quantifiable data, enabling you to better figure out what to change.
Did you notice a similar thread running through these? If you said, "Doing", you're right! Everything boils down to that. Everything.
So after months of hard work, I submitted my contest package to the judges. I made the finals! Heady stuff but I knew the biggest challenge is ahead of me.
Public speaking.
Granted it's only 5 short minutes. I was still terrified, and there is no other option. How bad did I want the prize? It was so easy for me to put in an email to the contest co-ordinator and say, I'm out. It crossed my mind many times.
But… I've come this far. If I exit now, I lose for sure. If I stay in, I may still lose, but what if I don't lose? That kept me going.
I won't bore you with theories about the presentation. I'd only like to share an interesting experience at this point. Everyone wants to help you.
You'll get all sorts of speaking suggestions, ideas, and tips. It can be alarming at first. How are you going to remember all that? After a little while, it becomes a bit tiresome.
For me, I decided to focus on the coaching the contest co-ordinator offered. She has so much experience with this contest, and her husband is a phenomenal speaker. I trusted them and went with their assessment. Does this sound familiar to you? I alluded to it earlier. It's picking ONE coach to go all in with.
And this is what I presented.
The next day, we got the results 🙂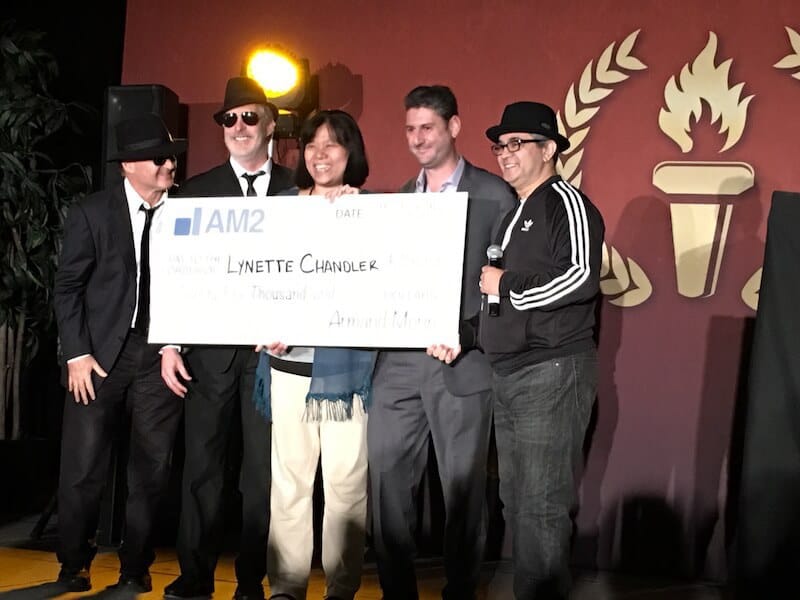 It's been a hell of a ride. It feels amazing. You know what is even more amazing? I was the underdog in this contest. It was a long shot.
I shouldn't have a prayer to win, but I do know a few things. I have a story. One that all have encountered at some point. I did the work and have solid progress to show. I knew how to make friends and be gracious to everyone at an event. I knew how to speak from the heart and be me. No need to talk things up. No need fake anything.
There's a lot to digest. There are so many things I wish to say, I could write a book. Perhaps I will. Right now, let's recap a few solid truths I've learned.
Truth #1: A Diamond Is Forged Under Tremendous Pressure. Get uncomfortable. Throw out that pride. Tell fear and doubt to take a hike. If you ever get comfortable with what used to be uncomfortable. It's time to move on to the next step.
Truth #2: Don't Be Afraid To Start Over. Nothing is set in stone.
Truth #3: Get Help. Learn from the best. Coach with them.
Truth #4: Do As You're Taught. At least in the beginning. You can tweak and change after gaining some experience.
Truth #5: Do. There's no getting around doing.
Truth #6: Work It Everyday. Focus on progress. Big or small, you are moving forward. Practice the Slight Edge
.
Truth #7: Other People Don't Matter. Don't look at other people. Their environment, circumstances, opportunities, product, customers – everything is different. They don't matter. You do. Be your own competition.
To close this out, I mentioned earlier how my husband gets me into "trouble". Looking back, I know if it weren't for him. Dragging me out to events. Not letting me back out of anything. Pushing me to work, re-work, think, and re-think everything. I would not have started this.
I'm lucky beyond words to have him behind me. It's hard, but if possible, try to find a journey partner. Better when that someone is a good friend, who understands our crazy business.
I could tell you so many stories of our adventures. They'd be too many and too long to share here. I'd love to share them with you in person.
Come on out to Learn University in April 2016. It will be in Los Angeles. I'll be there and would love to chat with you.
Do You Want A Hands-Free Business?
Then get this guide to help you systemize your business so you'll have more time working on your business.
Hey! I want to make sure you know what you're getting here. In addition to the guide, you will also receive our memo that includes special offers, announcements and of course actionable information.