15 Checklists For Writing Amazing Blog Posts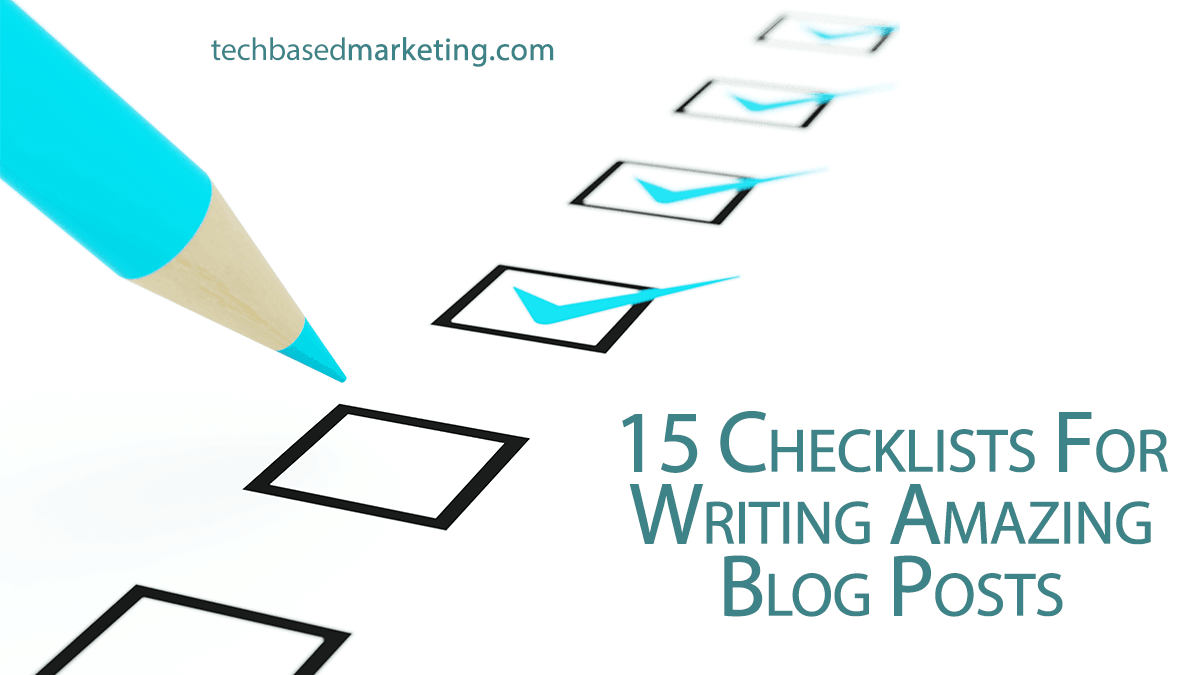 Writing a blog post is no longer something you can 'come up with' at the last minute. You can, but it's not helpful to your objectives. Particularly if you're trying to generate an income.
You need to plan, you need to make sure you've got your links, your call to actions, your keyword focus, etc. That's why checklists are so helpful.
Below, you'll find a list of checklists and how-to's that could become checklists. These can help you crank out top notch blog posts ever time. You don't have to use all. Check them out, pick out the best ones according to your needs and work it <— secret ingredient.
I like item #5. I always forget to do this and it's quite important for SEO.
#4 is a great idea and something we need to do more often. The only trouble is, it can add a lot more work. On the other hand, the dividends can pay off handsomely. Definitely a judgement call on which posts should have upgrades and which shouldn't.
I like this one. It covers more SEO points and I often struggle with #9 and #10 about linking. If I'm building my own checklist, these are two things going into them.
Right off the bat, Tom hits the right note in point #1. Purpose is so important. We often think our blog post's purpose is to give people something to read. While true, it's a superficial way of looking at it. We need to dig deeper.
A quick one to help make sure you've dotted all your i's and crossed your t's.
Point #3, about embeddable content is a great idea. Something I hadn't considered before. I do it as the focus of a post when curating, not as added resource. Definitely helps strengthen your arguments.
Love #3. Quotes get attention particularly from industry leaders. The quote may not come from a direct interview, but they lend a lot of credibility to your post. Like – see, even these smart people agree.
This is a massive checklist. While not directly related to blogging, it is about content marketing. At the end of the day, that's what most of our blogs are. Using content to market stuff.
The following aren't checklists. But because they are in list and point format, you can turn them into checklists.
I like how they broke down point #8 for us. Far too often, people say optimize for SEO but what do we do to optimize? Checklists definitely should have sub-lists.
I love Neil Patel's content. They are always so meaty. Worthy of a paid course. He's right too. He creates an insane amount of content. I don't know how he does it. Here, he shares how he stays productive while cranking out those super-high quality posts.
Yes, another one about productivity. I think it's key. Productivity doesn't mean you hurry through everything. It means doing it efficiently and still churn out spectacular posts.
We don't just need to write great posts, we need to be clear too. Wonderful examples here. Definitely something to check your posts against before publishing.
When people are scrolling down the list, the difference between a click or not, is your title. We must always hone our titles. This gives you some check points to work with.
Another one from Neil. We also touched on this a bit earlier. It's not enough to just produce content because your blog has been a ghost town for days and weeks. Neil lays down some things to think through before writing.
15. 5 Ways To Improve Your Next Blog Post (Backed by Science)
Finally to cap things off. An easy to digest infographic.

Do You Want A Hands-Free Business?
Then get this guide to help you systemize your business so you'll have more time working on your business.
Hey! I want to make sure you know what you're getting here. In addition to the guide, you will also receive our memo that includes special offers, announcements and of course actionable information.