9 Smart Triggers You Should Absolutely Implement On Your Site
Consumers are a tricky bunch. We want to hear about sales and offers from businesses of our choosing. But, we don't like to be sold to all the time. Yet, we do want businesses to sell us products we are looking for.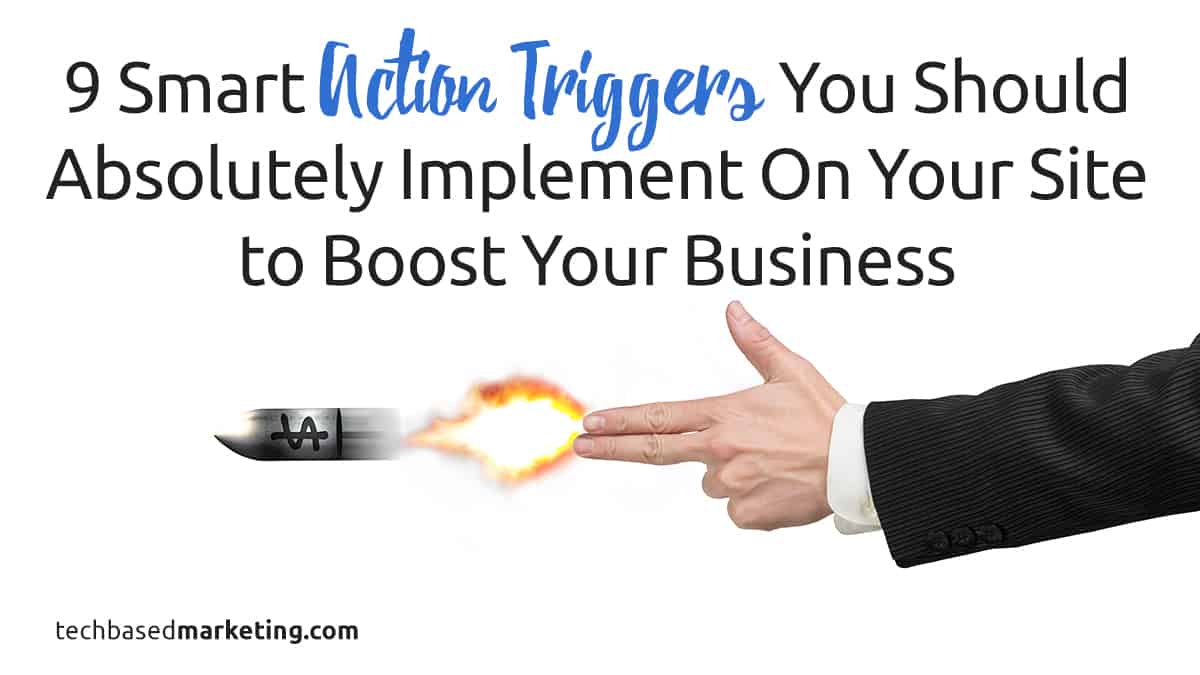 This makes marketing a little challenging. Big companies with deep pockets have long had methods to figure out our buying phases. Small and solo entrepreneurs like us, not so much, until lately, with behaviorial triggers.
The technology to trigger sequences based on actions is pretty simple. I'm a little surprised it took us so long. But that is a discussion for another day.
So what action triggers could we put in place today ?
#1 During or After Watching A Video
This would be a good time to display an ad for the product shown in the video. It doesn't even have to be your own videos or products.
Imagine publishing a Youtube video on how to use brush markers. At the end of the video, you could present links to buy brush markers on Amazon. You could also time this to when the presenter mentions the marker brand names.
#2 When Someone Downloads Your Freebie
Click action is perhaps the easiest things to track and trigger. When someone clicks a download button or link, you could display a special offer.
This can be in the form of a lightbox popup. That could be more effective to get attention. Or, a simple highlighted box that appears on the download page.
#3 When A Reader Scrolls To A Specific Paragraph
You can also translate the same method to text content. Let's say you mention a certain technique you learned from a course in paragraph 5 of your blog post. You can choose to display a popover or inline message just as people scroll to that paragraph.
The trigger points can be anywhere you set. Even the end of the post or page.
#4 After A Visitor Tweets or Likes Your Post
This method is often used for hiding or locking content until after someone likes your post. But it doesn't have to be. You could invite people to join your Facebook Group, give them a coupon, or join your mailing list.
#5 When Someone Exits Your Page Without Subscribing
Figuring out if someone is already your subscriber is a simple thing. Any decent developer can help you with that. From there on, you could display a unique popup each time they returns to your page or site.
In the same fashion, for those subscribed, you can also hide subscription boxes. In its place, you could present a special offer you mentioned in your latest email.
#6 Follow Up When The Checkout Process Is Not Complete
In the years I've purchased things online, I've seen this only a few times. Loved it. Which is why it took me so long to give up an old shopping cart that had this feature – but lacked a lot of other things. So I'm looking into creating a plugin to do this for aMember, my cart of choice now.
A similar application is seen on Remembered.io. If someone is on the sign up page for a long time, a screen shows with Shia LaBeouf's "Do It" video encouraging you to sign up already.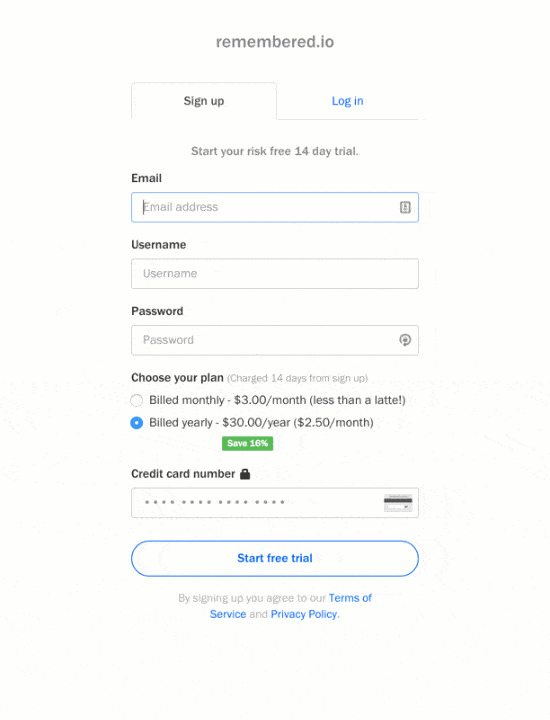 #7 When Visitor Returns To Your Site
Like #5, figuring out if someone is a repeat visitor is easy. You could even combine return visitor and subscribed, or return visitor and not subscribed. Each will see different things on your page. It could be a different offer. Different call to action and so on.
Here's an example use case on WordPress.com's jobs page. The copy in the blue box on the right encourages people to apply after they've visited that page several times.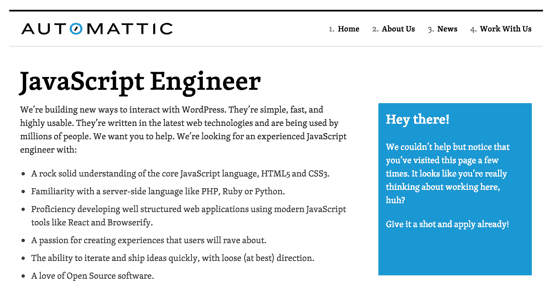 #8 On Log In
This is great for membership sites, both free and paid. You want to be careful on log in. Usually when you log into a site, you are there "on a mission" so to speak. Members are looking to achieve something there.
With that in mind, I might not want to disrupt them too much. But, this is a good time to display loyalty discounts, or show them what's new.
#9 On Log Out
What you can do on log in, you can do after logging out as well. Most systems redirect users somewhere after logging out. You could tell them about a sale currently going on. Invite them to an upcoming webinar. Or, get them to engage with you by sharing their accomplishments.
Bonus: #10 Email People Who Have Not Logged In For A While
I think this would be very helpful for memberships. A quick reminder about the tools and discussions inside could boost engagement or consumption.
Do You Want A Hands-Free Business?
Then get this guide to help you systemize your business so you'll have more time working on your business.
Hey! I want to make sure you know what you're getting here. In addition to the guide, you will also receive our memo that includes special offers, announcements and of course actionable information.