If You Want Progress, Stop Learning. Start Doing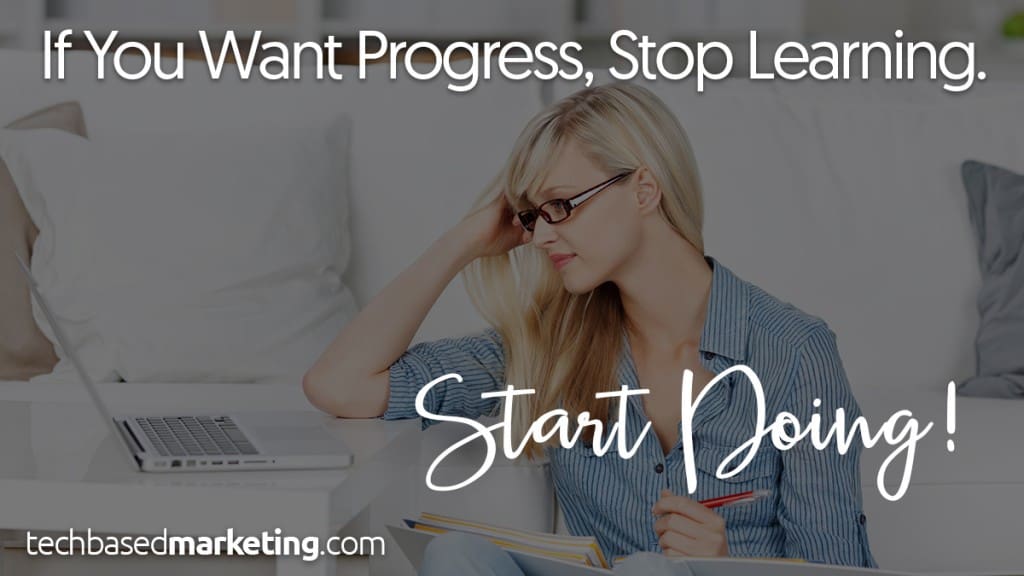 One of my long time friends online is Susanne Myers. Susanne started out about the same time I did. She focused on affiliate products while I worked on my service business and later, my own products.
Anyone who has ever owned a service business knows. It's not that different from a job. A few years into that, I began to look for something simpler. Something where I could earn money quietly without having to bother with orders, shopping carts and such.
I knew then, I had to become better at affiliate marketing. Lucky for me, Susanne, a quick study is very good at that. So I signed up for her program.
Every week, she sent me assignments with a quick overview of what we will be doing and why. This was kept as brief as possible. That's good. I despise courses where the instructor goes on and on, practically selling me the whole program again in the course. Ugh.
I bought the thing already. I'm here to work so tell me how. Right?
Her program did nothing like that. She dives quickly into the assignments getting quite detailed. Even though I know much of this stuff. The details are helpful because I like to see other people's process and it helps me figure out what I'm missing in my own process.
Since they are so valuable to me, imagine how useful the detailed instructions are for someone new to affiliate marketing. Very.
In this fashion, Susanne led me through a year of assignments covering content creation, growing a list, and circling back to work on past tasks or projects. I think this is so important. Too often, we keep looking forward to the next thing, forgetting the goldmine we are already sitting on. Reviewing, updating, and re-working pervious projects can be very profitable.
Wondering how you can get in on this program? You can't. It's been closed for a while now. I was sad to hear that because I thought those new or who want to get better at affiliate marketing could use this type of help.
I reached out to her partner Tracy Roberts. So glad I did.
Tracy told me that she and Susanne reviewed the program, updated it with new stuff and now it's back. Bigger, and better than before. Yay!
Side-tip: If you are referring people to a resource and it's no longer available, always reach out to ask. You never know what good things could have replaced it.
The newly updated program is called Profitable Projects. Here's what you can expect to get assignments on.
Working On Your Blog
Content Creation
Creating Short Reports
Keyword Research for Content Creation
Content Creation Recycled
Product Reviews
Content Creation with PLR
Content Creation With Short Reports Recycled
Content Creation Using Interviews
Your Email List
Growing & Optimizing Your Email List
Auto-Responder Messages to Build Your Back End
Auto-Responder Messages -4 More
Bonus 1 List Building Round Table A/R Series
Bonus 2 Email Marketing to Skyrocket Your Income
Bonus 3 Getting Your List Building Started
Getting Traffic to Your Blog
SEO Analysis
Blog Commenting with a Twist
Guest Blogging for Fun & Profit
Go Viral! Places to Submit Your Short Report
Forum Marketing
Making Money From Your Blog
Finding Good Affiliate Offers
Affiliate Link Organization
Short Report Monetization
Customized Error, Thank You & Download Pages
Information Product Creation Pt 1
Information Product Creation Pt 2
Information Product Creation Pt 3
Information Product Creation Pt 4
Pretty comprehensive huh? It'll keep you busy for a while. More important – it will help you make some real progress. That's key.
Often times, we don't need to learn the next new tactic. The basics of building a business online doesn't change as much as people lead you to believe. If you have been working your business, chances are, you already know what to do. Learning more won't help but doing will.
Profitable Projects is a doing plan. If you're ready to stop learning, start doing and finally moving forward, here's where to go.
Do You Want A Hands-Free Business?
Then get this guide to help you systemize your business so you'll have more time working on your business.
Hey! I want to make sure you know what you're getting here. In addition to the guide, you will also receive our memo that includes special offers, announcements and of course actionable information.