Want to know what is a squeeze page? In short, it's a web page whose singular focus is to get a visitor to opt-in to an offer.
This is usually a free item like a:
Trial account
Report
White paper
Video
Audio
Class
The actual item varies and is not important. What is important is the relevancy of the offer to the audience who lands on this page. Which might be why some refer to it as a landing page or capture page although landing page has a larger use case.
What's A Squeeze Page – A Brief History
Even though today's squeeze pages have many direct marketing characteristics, early versions often utilized them with a heavy hand. Many didn't resemble the other pages that the website has. There was often little to no branding, nor methods of contact, terms or disclaimers at the page footer and certainly no navigation links. The only content on the page is copy designed to convince people to enter their name and email address. There was no option to learn more about the company or even find out who is behind the offer. It was either opt-in, or leave.
Here's an example of one of my squeeze pages from the early 2000's.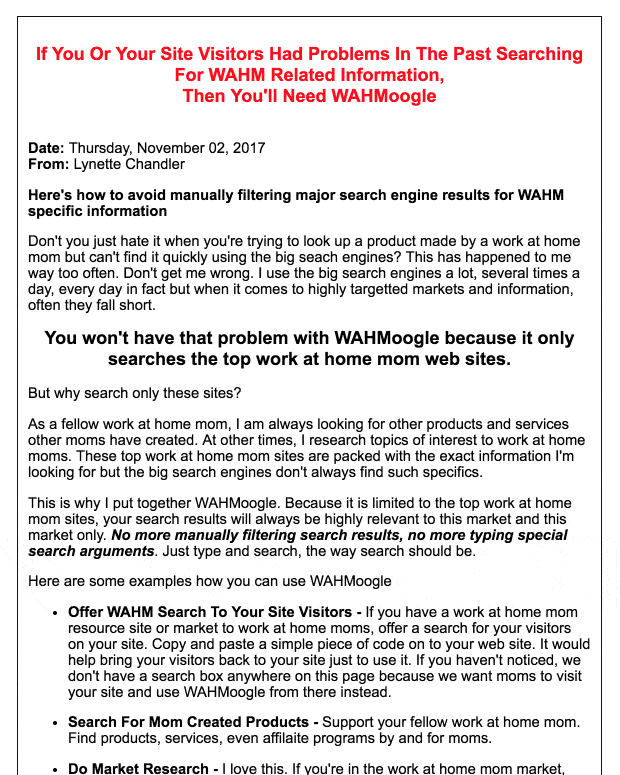 As the Internet matured, Google in particular frowned upon such methods. They refused to approve any advertising that lead to old-style squeeze pages. That didn't mean you couldn't do it, but in order to advertise a squeeze page today, particularly on Google, you should have branding in the header (like a logo), navigational links, links to other types of content, disclaimers, terms of use, privacy policy and more in the footer.
For direct marketers, the availability of other links, particularly navigation links means lower conversions. However, overall, this made for a much more professional presence as well as better user and potential lead experience. True, a captive audience is what a marketer always looks for, on the flip side, there's no need to hide the company, what you do and links to other content on your site. Everything on your site should work together to bring people into your funnel rather than relying on that one page.
You will still sometimes encounter a modern squeeze page here and there. There is no rule against building one. There is no Internet police to stop you from doing so. Usually these pages are not advertised but promoted through other methods like email lists, referrals and so on.
Squeeze pages are certainly not dead. They are in fact, still very much in use although the design has changed quite a bit. At the core the objectives of the pages are still the same. A page created for the sole purpose to compel a visitor to part with their contact information in exchange for something or some knowledge of value or importance to the visitor.
Do You Want A Hands-Free Business?
Then get this guide to help you systemize your business so you'll have more time working on your business.
Hey! I want to make sure you know what you're getting here. In addition to the guide, you will also receive our memo that includes special offers, announcements and of course actionable information.