Manage Multiple WordPress Sites With These 3 Tools
When you have used WordPress for as long as we have – or manage sites for clients, it's not uncommon to find yourself in a tangled mess of installations. Most times it's not a problem until… you have to update the sites. Yikes!
In-house, we have perhaps 20+ WordPress installs. I've already consolidated some of them into Multisite installs so I don't have to manage so much but haven't completed all of them and some are better left as standalone. That's just us. Not including clients, but I'm not alone. I know of someone with 200+ WordPress sites. Even outsourcing costs a pretty penny.
Thankfully, smart developers know that and now, we have options to alleviate the problem. Yay!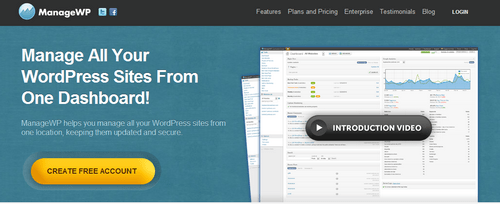 First – ManageWP. This is the very first system I came across about maybe in 2010 and joined as a beta user. Loved it immediately. It went smoothly for the most part even during the beta. Like every system I did run into issues. One was when some servers (mostly client sites) wouldn't let you update remotely. This is not their fault.
I liked the familiar WordPress style to it, they are pretty responsive and it's come a really long way. It can be a tad pricey but if that price still works out less than your time I'd say it is worth it.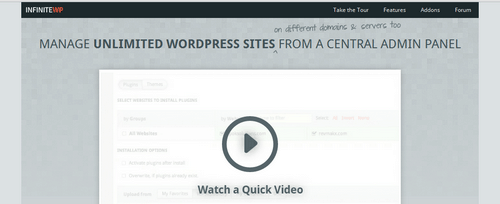 Then, I came across InfiniteWP. This system works a lot like ManageWP because you have to install a 'worker' plugin on each of your sites for it to work. This plugin eliminates the need to connect using your admin account which helps when it comes to security. The big difference – InfiniteWP is free and it is a script you install on your site.
I installed it on one 'satellite' site and manage all the other sites from this panel. Love the Interface. They plan to have premium add-ons later which I think is a good thing.
The other thing I like a lot is the ability to install premium plugins directly from the dashboard. If your plugins are on the WP repository, you can even save them as favorites and install them on new sites.
While the Interface is pretty it can be just a tad confusing. Good thing they have a quick tour when you first log in. Also, my pet peeve at the moment is the inability to edit sites you already entered.
This is annoying because sometimes you make a small typo. Oh and when I had to turn off all plugins on a site to test things out, the connection between the satellite manager and the blog broke. I had to delete the site and add it back.
Still, I'm keeping it for now, knowing they are new and willing to overlook these for the mean time in the hopes the software will be improved upon.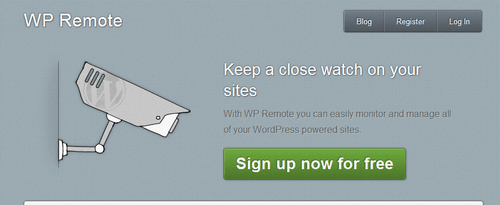 Finally, there is WPRemote. Must confess this is one I've only just started with. It doesn't have as many features as the other two. It also relies on a 'worker' plugin to help get the job done although the install/activate process was smoother. Features are somewhat limited right now and from what I can tell, there are no limits nor cost to the number of sites you can manage.
And that's it for now. Hope you find one that suits your needs.
Do You Want A Hands-Free Business?
Then get this guide to help you systemize your business so you'll have more time working on your business.
Hey! I want to make sure you know what you're getting here. In addition to the guide, you will also receive our memo that includes special offers, announcements and of course actionable information.