Affordable Live Streaming Equipment For Your Office Studio
Want to take advantage of Youtube and Facebook Live for your business? Then these are the live streaming equipment you'll need.
Ring Light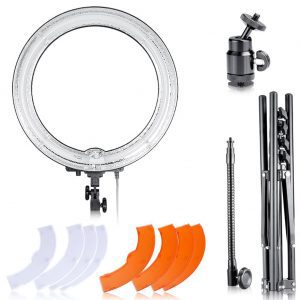 Ring lights aren't for divas and beauty bloggers only. They are an amazing thing that instantly brightens up your face. Prior to getting one, my videos are often dark and awful. Partly because my office doesn't get a ton of natural light and also because I tend to do video in the evenings. The ring light completely changed that and now, I'm not constrained to day-time recording.
There are several types of ring lights out there, some as much as $300, but you don't need to spend that. I paid about $110 for the Neewer Ring Light bundle pack. I highly recommend this one. But no matter what you end up getting, a few things you want to make sure you look out for.
Bundle pack. Get one with accessories because buying them separately costs a lot more.
Get the 18″ ring for larger coverage.
Make sure your bundle pack has a camera adapter so you can put your camera or a phone holder on top of it. Usually the holders are purchased separately. And that's OK. Just make sure it has an adapter.
Make sure you get the dimmable version because you'll want it.
The one I linked to satisfies all of this. This is the one you should get.
Phone or iPad Adapter
Next thing you want is either the Vastar Universal Smartphone Tripod Adapter or the Ipow Universal iPad Tripod Mount Adapter. I have both. One holds the phone and the other is for the iPad. They rotate and can be screwed onto the ring light attachment.
Light Stand
My right light came with a light stand. If yours didn't, you'll have to get one. I recommend an actual light stand, not a camera tripod. Although that would work, but camera tripods are more lightweight. The ring light itself is pretty heavy and can topple easily if there's a bit of imbalance. A light stand is more sturdy. The last thing you want it to have your ring light fall and break because the light bulbs are expensive! The stand would set you back about $20. See why the bundle is important?
With just these alone, you are ready to start live streaming. You don't need a ton of other things. In my experience, the more you have, the more unlikely you are to go live because there's so much setup work. This setup is fairly portable, easy to move around, plus the investment is reasonable. I'd suggest you start with this and slowly add the equipment below if you need them.
Optional But Nice To Have Equipment
A Webcam
Since most live streaming can take place on the phone or tablet, it's not necessary to have a webcam. However, there are times you want to use one. Especially if you plan to live stream using your computer or share you screen on a live stream. I use the Logitech C920. The best thing about it is the tripod holder. That means I can attach it to the right light or any tripod. You'll find this feature very handy.
A Screen
I must credit my friend Kelly McCausey for this idea. A room divider screen can be super helpful to put behind you to hide your messy room. But beyond that, a screen also minimizes the distraction. People are nosy and they like to look behind your shoulders to decipher what you have etc. So choose a simple but attractive one. I also particularly like a paper screen idea. This way you can put a light behind the screen to brighten up your surroundings.
Yes, I know I'm talking about a lot of lights here. What might seem super bright to you actually looks natural on camera. The camera loves light. LOTS of it.
A Roll-up Shade
Talking about backgrounds, this is a much cheaper method than a screen and readily available too. You can get a simple white roll-up shade from Walmart. Or, you can get more attractive bamboo and wood grains if you wish. I suggest you make it as wide as possible. Then hang this shade from the ceiling, behind where you'd be doing most of your videos. When you need to make a video, just pull it down and when you're done, roll it back up again. It stays out of your way, doesn't take up floor space. Works super well for quick photos and live videos.
Lavalier Microphone
While not a necessity, but a lavalier mic that clips on to your shirt can be very helpful especially when there's a lot of background noise and you want your voice to be clearer. I have the BOYA Electret Condenser Microphone. It uses a standard 3.5mm jack so it can plug into my phone and my Macbook as well. This way I don't have to buy two microphones for both. The cord is also super long which can be nice.
Selfie Stick/Stand
Most of the time, you won't need this. However, there are times you don't want to carry around a big tripod. The Novasat Selfie Stick Monopod is very handy for small spaces and for mobile use. Best of all, this can stand on it's own without you having to hold on to it. That's really the only reason I got it, but this brand works very well with lots of good reviews. The built in remote control is a real bonus.
Adjustable Standing Desk or Cart
I use the Seville Classics Sit-Stand Desk Cart when I want to change my background view. This way, I can put my laptop on the desk and move around instead of streaming from my desk all the time. Even when using the phone or iPad to stream, the rolling desk is very helpful to hold items you may need to show people. For example, when I do one of my LipSense videos, I need the cart to hold my mirror, gloss and colors so they are right in front of me instead of having to figure out where to put them.
That's it! Again, don't invest too much on the optional items. They are very useful for different reasons. Get them slowly. If you only can get one thing now, I'd say the ring light. That is a must. Once you have that, doing live videos is much easier. Happy live streaming!
Do You Want A Hands-Free Business?
Then get this guide to help you systemize your business so you'll have more time working on your business.
Hey! I want to make sure you know what you're getting here. In addition to the guide, you will also receive our memo that includes special offers, announcements and of course actionable information.