How To Make An Email Newsletter
Chances are, you are here to make an email newsletter that is either attached to your blog or a standalone. You probably also hope to make some money out of this gig. Since that is the case, the one thing you need to get out of your head right now is the word FREE. If you want to market your blog, show, book, products, __fill-in-the-blanks__ with email, it's a pay to play thing.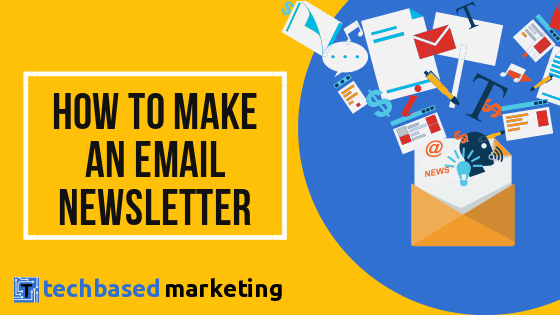 Why? Because you do not want to manage email deliverability and reputation by yourself. It's far too technical for most people. Even if you are rather geeky, it's going to take way too much time away from you when you should be spending that time marketing and growing your company. Once you get past that, learning how to make an email newsletter is pretty simple.
Email Newsletter Service
First, you'll want to sign up with an email newsletter service. Never ever send email newsletters out through your personal email account unless you want to lose your account. I use and highly recommend Sender (ActiveCampaign). The following are a list of popular services:
Drip
ConvertKit
Constant Contact
It is easy to spend a ton of time going back and forth, examining the pros and cons of each service. My advise is don't. Pick one that fits your budget that you feel you can get comfortable with and run with it. If you still have no idea, use Sender like I do. Start with the smallest plan. You can always scale up later.
Create Your List
Next, log into your email newsletter service account to create a list. Whenever anyone subscribes to your newsletter, they will go into this list. Complete the information your newsletter service wants you to complete. Usually you'll need to enter things like:
The from name – this is what people will see as the sender in their inbox. Use your own name here. Especially if you are the face of your website. Names are more personal and people expect emails from a person. If you must include your site or company name, do something like Lynette from TechBasedMarketing.
The from email address. This is what people see when they view the email address of the sender and also the address that replies will generally be sent to unless you specify a different from address. So make sure it's one you or someone checks on everyday. For best results, make this coming from the same domain as your website.
Reply address. This is optional. Skip it.
Reminder text. Some services require you enter a short text to remind people why they are receiving this email. Keep it short and sweet here, or use the default for now. You can always change it later.
Your website name and URL
Note. Not all services require all that information up front. Some will have less or more. But this is pretty common. I suggest you write down this information before hand so your list creation process will go as quickly as possible.
Sign Up Forms
Once you have a list created, you need to put up a form on your website so people can join it. There are several ways to build this form. The easiest and fastest is to use the form builder that is inside your email service account. Again, try not to overthink this. Pick one, move on.
Once you have built the form, you'll be given some code. You'll need to paste this onto your website. If you're using WordPress, simply paste it into a text widget and use that widget in your sidebar or wherever you want it to go.
While this is the fastest way, it's not the most flexible method. The best method is to invest in an email newsletter plugin, or a page builder with newsletter form capabilities. My recommendation is Beaver Builder.
Using one of these plugins, you can create beautiful forms that work on various parts of your website without being at all technical. The form creation process is also greatly simplified and that's always good because frustration kills progress fast.
Promote
Now that you have your form on your site, what next? You promote, promote, promote. Tell the people you know who might be interested in what you have to offer. Reach out to people online. They may say no but they may also say yes. Put it on your social media profiles. Write guest posts and direct people to your sign up page.
Email Them
The last bit- don't forget to email people who signed up! Sounds like a no brainer right? But too many people get caught up with the mechanics of how to make an email newsletter. How to grow their list and more and… forget or get scared of emailing the very people they do this for.
Put it on your calendar. Make an appointment to email once or more a week. Mix it up between promotional emails, information and a bit more personal emails. Soon, people will be looking forward to seeing you in their inbox.
Do You Want A Hands-Free Business?
Then get this guide to help you systemize your business so you'll have more time working on your business.
Hey! I want to make sure you know what you're getting here. In addition to the guide, you will also receive our memo that includes special offers, announcements and of course actionable information.