Facebook Live App That Can Host A Guest
As Facebook Live gains popularity and organic reach dips, many businesses are exploring how to use it. One of the most popular idea is to conduct interviews. If this is something you are looking into, here are a variety of ways to achieve that.
Facebook Native App
I personally haven't tried this yet because nobody wants to try it with me! However, you need to both on the same platform. So if you have an iPhone, your guest must also be on an iPhone. It's a weird limitation but that's how it works at time of writing.
This is my go-to Facebook Live app. All (okay, practically all) my live broadcasts are done with eCamm Live. I can have lower thirds, add images and more to each 'scene'. So I have several scenes set up for different businesses in order to swap out the logos quickly. I can show my screen which is the biggest reason why I use this. You can also bring on a guest by connecting to Skype and broadcasting through eCamm Live. The icing on the cake? It is an affordable $39 one time. No subscriptions.
Here's a screenshot of a broadcast with my own lower third branding.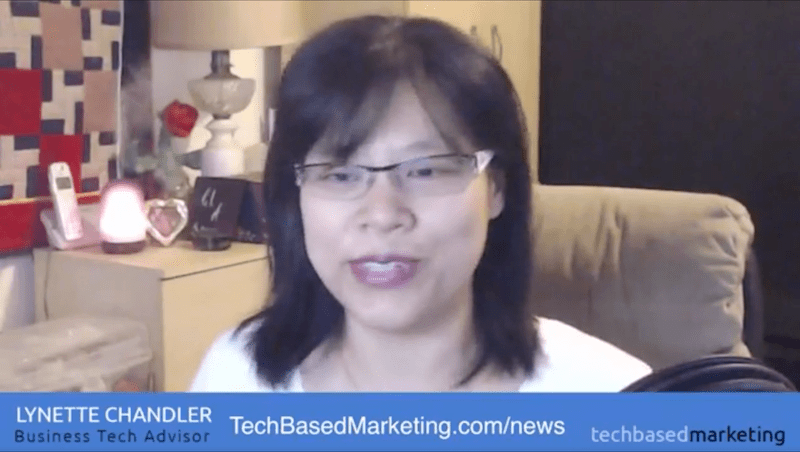 The only sad news, eCamm Live is for Mac only.
I loved using Zoom! Not to mention, you can use Zoom for other things like webinars and a small group meeting too. Having the ability to all video streaming related stuff on one platform is wonderful. I also thought it was the easiest method to broadcast to Facebook (and I believe YouTube) live too because you don't have to worry about connecting a bunch of stuff and different interfaces. The only down side is the monthly fee. While it's not terribly expensive, the price is high enough to deter me from using it long term. I would however, pay for a month when I have a big event going on because it is a pretty rock solid platform, great adoption rate which also means many people are familiar with it.
Here's something interesting to note. When I was broadcasting live to Facebook using Zoom and offered people the alternative to watch live on Facebook or join the call in the traditional webinar room, most used the webinar room. That's probably because of my audience's familiarity with webinars in general.
I don't use this solution even though I did test it out early on. However, many of my friends use it with great success. BeLive is $15 a month for the Lite service which does not let you share your screen. For that feature, you will need the $20/month plan. You can also use lower thirds with BeLive.
It is quite incredible this Facebook Live app is free (or still free at time of writing). Lightstream is a great solution that works on both Mac and Windows platforms. It is completely online. No downloads. Just your browser. You can do tonnes of cool stuff like adding images, branding, lower thirds and more. And of course… bringing in a guest.
Do You Want A Hands-Free Business?
Then get this guide to help you systemize your business so you'll have more time working on your business.
Hey! I want to make sure you know what you're getting here. In addition to the guide, you will also receive our memo that includes special offers, announcements and of course actionable information.