5 Amazon S3 Tools For Macs
It is always a good idea to pay attention to the questions people are asking, especially on social media because you get a chance to not only get a wonderful blog post about it, you can reach out to people whom you may want to build a relationship with. Anyhow, this post is inspired by Stu McLaren of WishlistMember fame. He asked…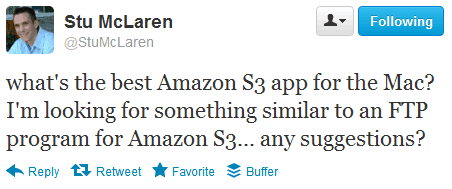 He's since got some responses but I figure it would be a good list to compile especially when I rarely write for Mac users and now that I'm having to do more work on my MacBook, I want to know what my options are as well. So here's what you can use.
Transmit by Panic

This is perhaps the most recommended one, in fact my friend Lexi recommended it to me months ago. It's got some pretty slick features like sync – that is lots to love and the ability to connect using various methods, like FTP and SFTP – a must if you own a blog, or have any kind of web presence. Sooner or later, you will need to transfer some files in that fashion.
Price: $37
Cyberduck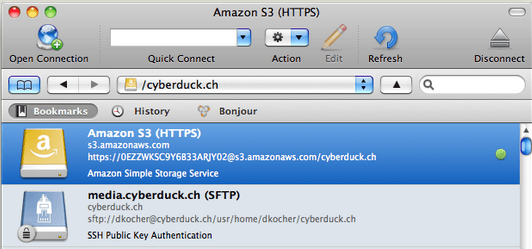 Cyberduck is one of the first I encountered and I've been using it long before Amazon S3. It too can connect via various methods like FTP and SFTP, including Google Drive and Rackspace Cloud Files.
Price: Free (Open Source)
CrossFTP Pro

Like the others, multiple connection types. If you're the type who's used to their apps looking gorgeous, you might be disappointed, but if you're more into function than design, CrossFTP Pro can do the job you need it to. 30-day free trial is available, including Windows and Linux versions.
Price: $25
muCommander

I only just discovered this one. Another one that is more function than eye candy. It looks quite interesting to me. Available in Windows, Linux and portable versions as well.
Price: Free (Open Source)
S3fm

Alright, this is not a Mac client, but since it is web-based, you can use it on one of course. I've heard a lot about this where people talk about how the keys are never transmitted to anywhere else, still, I'd only use it with a key with limited rights which you can do by creating a new user using Amazon's IAM tool. I'm actually liking it quite a bit especially for outsourcing because you don't force the person you work with to download stuff and it is accessible anywhere as long as you have an Internet connection. If you are uncomfortable using it from their site, they do sell licenses.
Price: Free, private license available.
Do You Want A Hands-Free Business?
Then get this guide to help you systemize your business so you'll have more time working on your business.
Hey! I want to make sure you know what you're getting here. In addition to the guide, you will also receive our memo that includes special offers, announcements and of course actionable information.