How To Create Stunning Blog Images Without A Photo Shoot
I don't have to tell you we live in a highly visual world. This has always been true, but I think as the Internet matured, and technology hurtles forward, the quality of images are also getting better. I'm not talking about how many megapixels an image has. I'm talking about composition, framing, style, and everything a non-photographer like me knows absolutely nothing about.
It actually feels rather exhausting. I'm a developer and a budding hand letterer. While photography is interesting, it isn't something I have time nor money for. Have you seen the cost of photographic equipment?
All I want to do is represent my blog post – or products for that matter – in an attractive, yet realistic manner without learning photography. And oh… I don't have the budget for expensive photography sessions either. Sorry photographers! I really want to support you but there's only so much I can spend.
Isn't it wonderful there is a solution? Actually, plenty of solutions. Let's start with the non-PhotoShop ones.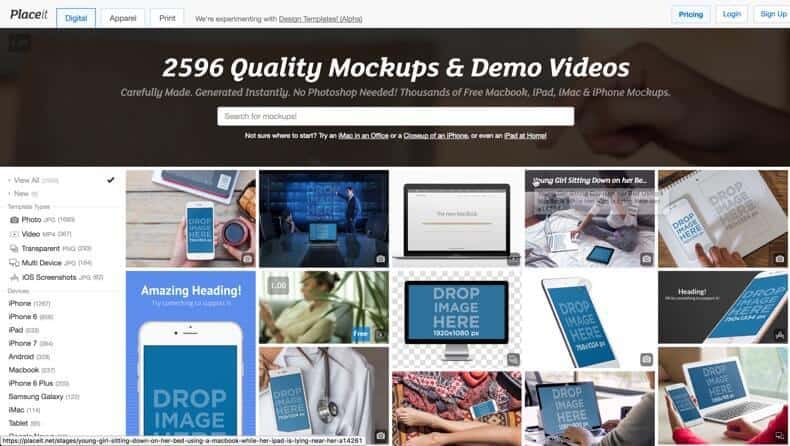 This is completely web-based. You don't need to learn any kind of image editing software. Just bring your own design, drag and drop it directly into the places where it says Drop Image Here.
There are loads of mockup options from phones, tablets, apparel, to print (like books, phone cases, and billboards). They even have video placement to make your product come alive. So cool.
This is a super easy and fast option with a wide variety. You can generate free videos and images if you don't need them to be very large. But if you need higher quality images and videos, that's where you're going to have to fork out some cash starting at $8 per image and $99 per video.
They have subscription plans too, starting at $29/month for images and $199/month for videos. Keep in mind, that subscription plans have a 3-month minimum commitment.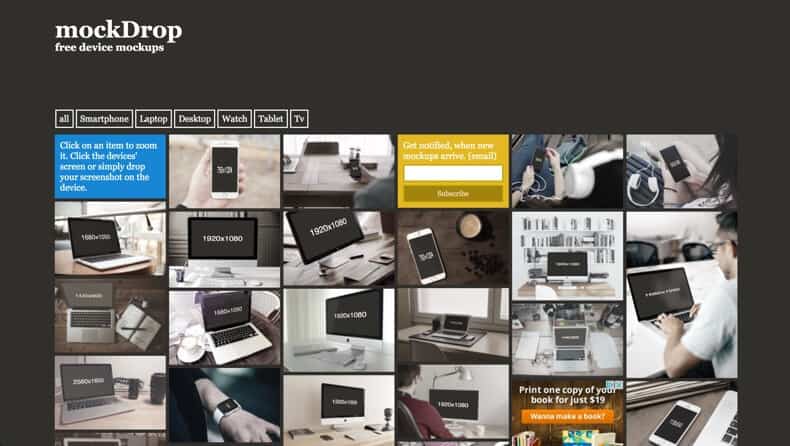 This is a nice and free alternative to Placeit if you're watching your budget would like a larger, higher quality image. It is just as easy to use as Placeit. Simply drag and drop your design into your chosen mockup image. Then download.
Naturally, mockDrop being free, you would expect the offering to be more limited. For example, you won't find T-shirt or poster mockups here. It still has a good enough variety of mockups from Smartphones to Desktops and TV. Great for digital marketers and bloggers. If you like mockDrop, do support them with a little donation every now and then to keep it around.
PhotoShop MockUp Options
These are my most favorite because they give me the freedom to design mockups as well as custom scenes according to the styles I believe will resonate well with my audience. Scene creators are especially useful for ads. Besides, I can end up with a unique design that nobody has. That appeals to me.
What kind of mockups can I create with these – oh honey just about anything! Even video. Yes. I had no idea I could create animated images and videos on PhotoShop until I used these mockup templates.
Here's one I created for BlogEnergizer in 2016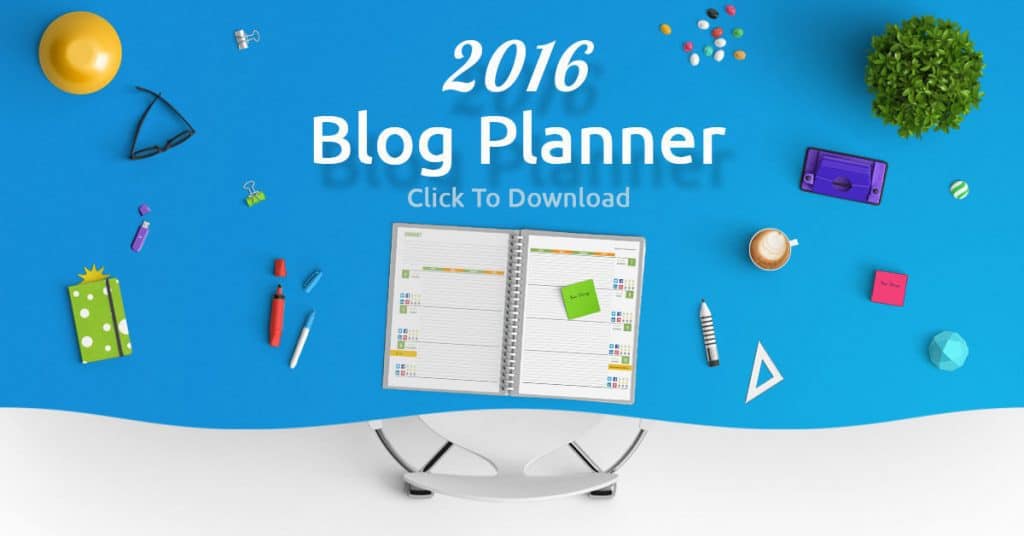 And this is another one for this year. I opted for a simpler design.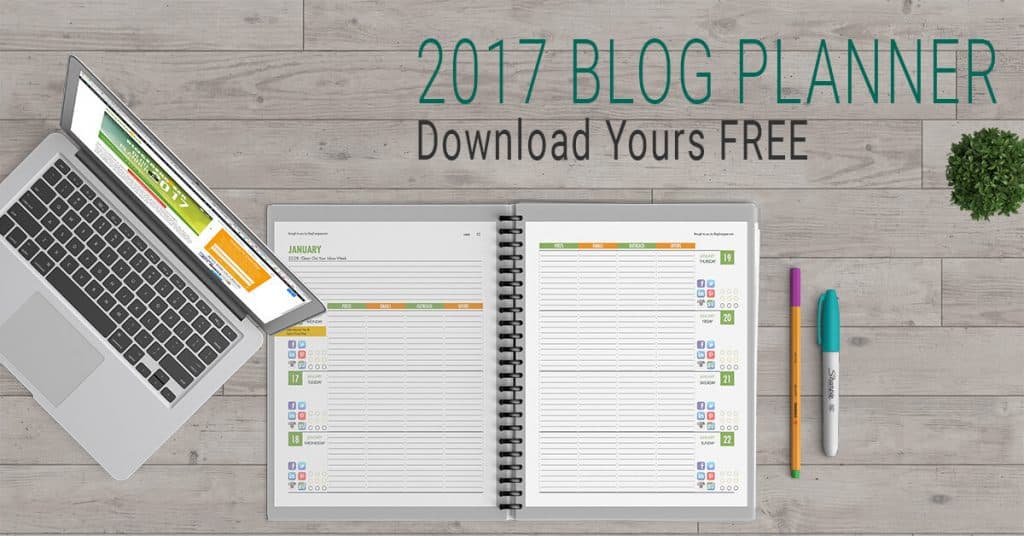 This is one I created for my art – when I thought I was going to make coloring books. I might still do it later.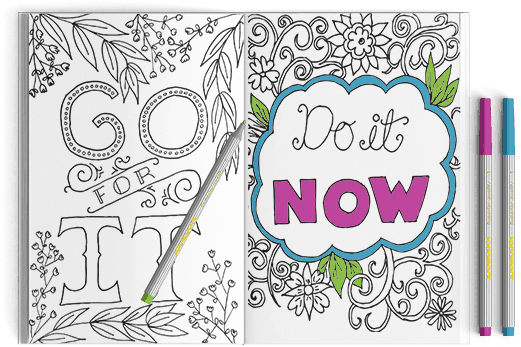 And finally, this is my artwork on a mug as a video.
You can buy these templates just about anywhere. I often watch Mighty Deals for specials on them. You can also find them on Graphicriver.
By far, my favorite place to find them is at Creative Market. They have such gorgeous designs and this is where you'll find many scene creators. Scene creators are like mockup creators only you can create your own scene by placing items you want into the scene like a table top. That's what I used for the BlogEnergizer and coloring book images.
In fact, those three images came from ONE scene creator pack that I bought on sale. It's huge and has hundreds of objects I can use. Oh, and if you are a food blogger – this is super useful as well! Take a look at this image I made for a recipe post. I didn't even need to make the pastries.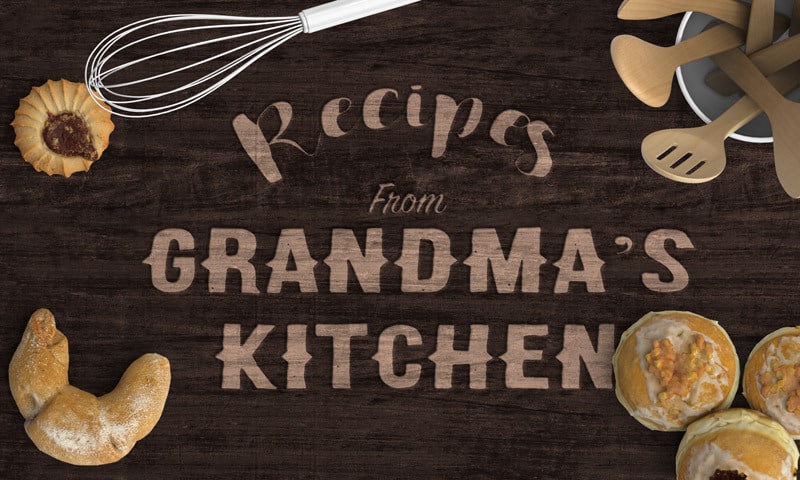 As for the rotating mug, I made it from this mockup template. The creator was super helpful and very fast with support as well making it an excellent buy.
I also found a new online option called MockupEditor. This requires no PhotoShop and you can create your own scenes. The pricing is also fabulous at $7 a month. Yes, it is a monthly fee so if you don't want that, the best is to buy a PhotoShop scene creator bundle.
I'm completely obsessed with these things and admit I may sometimes spend a bit too much time on it. I've even toyed with the idea of offering services. Some of the templates on Creative Market allow you do that so that's a wonderful idea if you're looking for a way to start a new business or add to your current business. Just be very careful and read and understand the terms before you do. It never hurts to ask as well.
Do You Want A Hands-Free Business?
Then get this guide to help you systemize your business so you'll have more time working on your business.
Hey! I want to make sure you know what you're getting here. In addition to the guide, you will also receive our memo that includes special offers, announcements and of course actionable information.