4 Tips For Growing Businesses With Online Meetings
Here's a white paper I came across that you might be interested in. Offered by Webex, it outlines how online meetings can help jump start your sales volume while minimizing lost time and major investment. Request your copy here.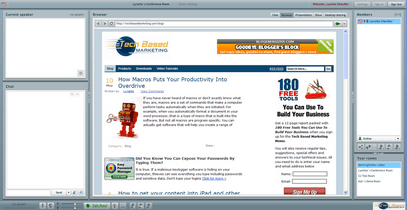 While we are on the subject of online meetings, you might know that my husband and I offer a web conferencing service. If you didn't, now you do 🙂 well, over the years, the program has improved a LOT. Like…
The room is now 100% flash based meaning it is Windows, Mac and even Linux friendly. All you need is an Internet connection, a microphone and a web cam which is optional.
Video replay. You can play a recorded video and it will be broadcasted to everyone in the room.
Desktop sharing. Where you can show others what you are doing right on your screen.
Conduct private audio or text chat. Great feature when you have staff working behind the scenes and you can communicate without interrupting the conference.
Super easy PowerPoint presentations. Upload your PowerPoint presentation and hit play. The room even stores your presentations. That way, repeat presentations can be started quickly with minimal administration.
Improved permissions. Ban, kick a user or promote them to temporary moderator status. Great for guest speakers without giving them a login.
Encrypted communication for security.
Multiple language support. Currently English, Spanish, French and Russian.
Branding – most web conference providers do not let you brand your room, but we do.
And so, so much more.
The room is also quite stable from my own experience and the many tests I've sat in with the application developers. Best of all, it is super, super affordable. But we will have to update our price very soon because of an agreement. Right now, you can still get 100 seats for $29.99, it will go up to $44.99 on June 1st. Yes, it is quite a jump and while we wish we could continue to offer it for that low pricing. The fact is, major improvements require investment and as mentioned, we don't have much choice. Actually, I don't know if I'll get slapped for still offering it at this price.
If you have been thinking about getting your own web conference room to conduct webinars, online expos, paid classes or just to communicate with clients and your team this is your last chance to get in before we get caught and lock in this crazy price.
Do You Want A Hands-Free Business?
Then get this guide to help you systemize your business so you'll have more time working on your business.
Hey! I want to make sure you know what you're getting here. In addition to the guide, you will also receive our memo that includes special offers, announcements and of course actionable information.